Everything is a win with this rice cooker Hainanese Chicken with Slimmer's Low Glycemic Rice. Of course, the latter is optional, but how cool is it to have this healthier alternative around?
What it is
Slimmers Rice is the first low GI rice in the Philippines. It's rich in Protein, Dietary Fiber, Iron, and Vitamin B1. It also has zero cholesterol and very low sodium content.
Benefits
It's an excellent rice substitute for people with diabetes, hypertension, high cholesterol, obesity, or those looking to lose weight.
It can:
-help manage blood sugar
-make you feel full faster and longer after meals
-lower the risk of heart disease and type 2 diabetes (along with proper diet and exercise.)
Going back to the recipe, here's what you need:
Ingredients
1 kg chicken thighs
1 whole bulb garlic (chopped)
1 thumb of ginger (chopped)
3 stalks of lemongrass (pounded to release more flavor)
6 pieces of pandan leaves (tied)
1 large bay leaf
1/2 chicken broth cube
2 tbsp sesame oil
2 cups of Slimmers Rice/regular white rice
Salt and pepper
Sugar
Procedure
1. Scrub chicken with salt until smooth. Rinse thoroughly and marinate in 1 tbsp sesame oil, salt, pepper, and a pinch of sugar.
2. Wash slimmers rice twice and drain. Place the rice in your rice cooker and add 5 cups of water. (Slimmers rice has a 1:2.5 cup ratio) If you're using regular rice, use the normal ratio.
4. Add broth cube, lemongrass, tied pandan leaves, ginger, garlic, and 1 tbsp sesame oil to the rice.
5. Put the marinated chicken on top and sprinkle another pinch of salt. Note: It's best to arrange the chicken evenly on top of the rice, so it's easier to find later.
6. Press the "cook button" and let the rice cooker work its magic.
7. Once it's done cooking, you will find that the rice has completely covered chicken pieces.
8. Carefully get the chicken pieces and set them aside. It would probably be very tender by this time, so make sure to do it gently. Otherwise, the chicken will disintegrate.
9. Discard the aromatics (Lemongrass, bay leaf, and pandan leaves).
10. Mix the rice from top to bottom, so the flavor is well distributed.
Sauces
Chili and ginger sauce
Blend together 1 clove of garlic, juice of 1 lime/lemon, 2 red chilies, fish sauce, 1 thumb of ginger, and 1 pinch of sugar together.
Soy and sesame sauce
Mix 2 tablespoons of soy sauce and 1 tablespoon of sesame oil.
Links
You can get Slimmers Rice at:
Lazada: bit.ly/lazslimmersrice
Shopee: bit.ly/shopslimmersrice
We got ours as a Christmas gift box from WeNourish, "a mindful, safe, and convenient space for discerning consumers to get all their health and wellness products in one place." You can order this along with other healthy goodies at wenourish.ph. Use our code, MARXABILOVESVPHARMA upon check out to get a discount!
Kyowa Chopper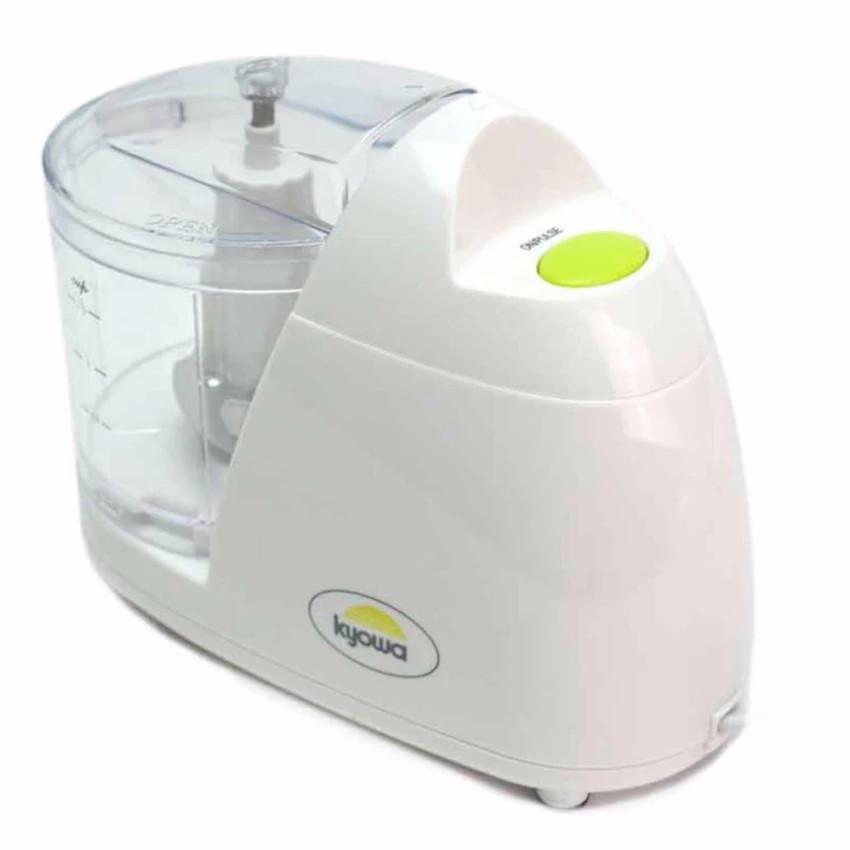 Tiny but mighty with 0.375 liters capacity. Space-saving, great for small portions. Note: not spill proof for liquids.
Shopee: Bit.ly/shopeekyowa
Lazada: Bit.ly/lazadakyowa